Everything You Need to Know About Bracing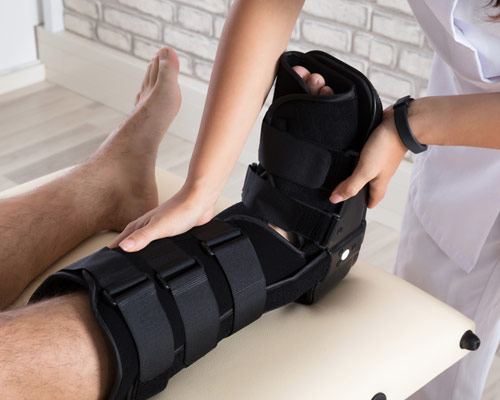 Are you suffering from a fracture, strain, or sprain? ADAPT Home Health Care can help! We offer a wide selection of Bracing & Support options to help improve your mobility. Keep reading to learn more about all of the bracing options that we offer!
Types of Braces
At ADAPT Home Health Care, we offer our customers bracing for all types of fractures, strains, and sprains. These bracing options include shoulders, wrists, elbows, back, knees, as well as ankle pain.
Ankle Brace
Ankle braces are designed to protect your ankle from sprains and strains. They are also used to immobilize the ankle area while it heals from a sprain or from another injury. At ADAPT Home Health Care, we offer a wide variety of support to fit your needs!
Wrist Brace
Wrist braces and thumb supports are designed for injury prevention as well as to help ease pain caused by carpal tunnel, tendonitis, and other issues. These braces are used to keep your wrist in a straight position when it is healing to avoid permanent issues.
Back Brace
Back braces are used for multiple reasons. These braces can be very effective at improving back posture. They can also be used as part of the treatment and management of back pain that is caused by sciatica, spondylosis, osteochondrosis, or fractures.
Arm Sling
An arm sling is ideal for anyone who requires support while recuperating from a sprain, fracture, or other injuries. Arm slings are typically used for arm and shoulder injuries to alleviate any additional pain caused by the arm hanging.
Carpal Tunnel Brace
Carpal Tunnel Braces help with wrist pain caused by Carpal Tunnel by keeping the wrist in a relaxed and neutral position.
Shoulder Immobilizer
A shoulder immobilizer is designed to hold your injured arm against your body to keep your shoulder from moving. This will allow the area to heal with limited pain or damage.
Arthritis Gloves
Arthritis Gloves are designed to help relieve aches, pains, and stiffness in the hands that are caused by arthritis. We have several different sizes available.
Custom Knee Brace
Do you require a Custom Knee Brace? ADAPT Home Health Care can help! These custom knee braces provide the ultimate combination of stabilization and protection of the knee joint to get you feeling better and healing properly! Our team has received certifications and training to help fit you with a custom brace made specifically for you. They will also help coordinate your insurance coverage.
Air Cast Boot
An Air Cast Boot is used to help heal injured or broken bones in the foot, ankle, or leg. This boot allows you to pump air into it for customizable compression. These boots help reduce swelling and speed up the recovery process.
Pregnancy Belt
Pregnancy belts are stiff belts that wrap around the abdomen. They are used to help support the lower back, pelvis, hips and abdomen during pregnancy.
Hernia Belt
A Hernia Belt is an undergarment for men that is designed to keep the protruding tissue in place. These belts also help relieve the discomfort caused by a Hernia.
The ADAPT Home Health Care Difference
When you choose to work with ADAPT Home Health Care for your bracing needs, you get more than just a brace. You get all of the benefits that other home health care companies don't offer.
WSIB Approved Vendor
ADAPT Home Health Care is a WSIB Approved Vendor. This means that we will help take care of any WSIB approved claims as a result of a workplace injury. We handle everything from start to finish – all we need is a prescription, your claim number, and we take care of the rest!
Our Staff
At ADAPT Home Health Care, our Medical Equipment Specialists will help assess your needs and recommend the right brace or support for you. We also have a Kinesiologist on site. These individuals have a great understanding of the human body and can help you select the appropriate products!
Our Selection
At ADAPT Home Health Care we have a wide selection of braces and supports for all areas of the body. We carry a wide selection of brands, types and styles at varying price points depending on the need of the patient. We also specialize in Custom Braces if you require a more advanced device.
Multiple Locations
We have 2 locations across the Greater Toronto Area to better serve you and your bracing needs. Visit our location in Mississauga or our other location in Brampton to find your bracing and other home health care products!
Gore IDA Pharmacy
Gore Pharmacy is a full service community pharmacy located in Brampton. It has been our honor to serve our community for over 10 years.
Truscott IDA Pharmacy
Truscott Pharmacy is a full service community pharmacy located in Mississauga since 1959. We have had the honor of serving the GTA for over 50 years.
Visit one of our three locations today to meet our staff, find the perfect home health care product, and experience the ADAPT difference!
Our Guarantee
At ADAPT Home Health Care, we always go above and beyond for our customers. That's why we ensure that you are completely satisfied with your purchase. If for any reason you are not satisfied with your purchase, we will help resolve the issue!
Education First
At ADAPT Home Health Care, we put educating our customers first. No matter the quality of the home health care product, if you purchase something and don't know how to properly use it, then it is useless. Our staff spends time with each customer to figure out exactly what their issue is and they work hard to find the perfect home health care product for their issue.
If you're looking for bracing or other Home Health Care Products in Mississauga or Home Health Care Products in Brampton, ADAPT Home Health Care can help! Call us or visit us in-store today to learn more about what we can do to help improve your life.
Latest posts by ADAPT Home Health Care
(see all)