An Insiders Look at Mobility Solutions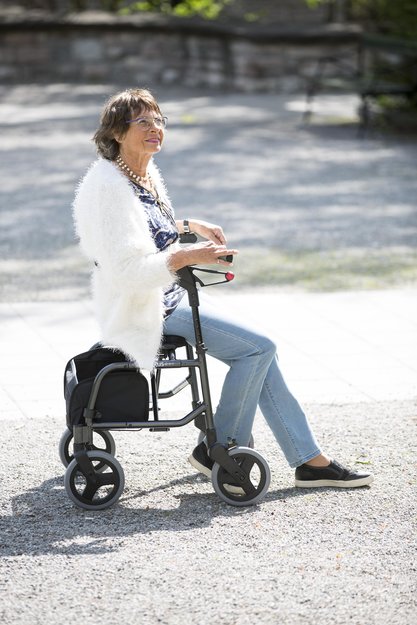 Mobility is an extremely important part of life. Without the ability to be mobile, many people lose their sense of independence. At ADAPT Home Health Care, we work with our customers to find them the perfect mobility solution for their lifestyle. Keep reading to learn more about the mobility solution options that we offer!
Why Choose a Mobility Solution?
Many people choose to purchase a mobility solution to improve their day to day life. Some struggle with their balance, others are afraid that they will stumble and fall. Beyond these conditions, others require mobility solutions due to surgery, an injury, or heart/lung issues. Regardless of the reason, mobility solutions are a great way to transform your life and transport your independence back in time.
Rollators
Rollators are a mobility solution that has four legs. This device is used to help keep the individual using it up right while they are standing and while they are walking. Each leg on the rollator has a wheel attached to it to improve the ease of mobility for the user. These wheels also swivel so that the user can change the direction that they are traveling in with ease, without having to pick up the unit and move it. This means that rollators are only meant for those who need minimal support to walk. If the user places too much body weight on the rollator, the device can begin to move too quickly and result in the user falling. Rollators also have a braking system so that the user can operate the device without fear of it rolling away.
Another great part of owning a rollator is the available accessories that you can purchase. There are shopping baskets, padded seats, and more! This means you can customize your rollator to fit your life – perfectly!
If you're not sure that a standard rollator is right for you, there are other options. At ADAPT Home Health Care, we also sell three-wheeled rollators that have 2 wheels in the back and one in the front. This type of rollator has a better turning radius which makes them ideal for apartments and condominiums.
Walkers
Not interested in a rollator? Perhaps a walker is a better mobility solution for you! A walker is a mobility solution that is more suitable for indoor use. It has the option of coming with no wheels or two wheels depending on the patients need. This unit has a handle which allows the user to pick up the walker and place it in front of them. The user can then step forward towards the walker and repeat the process to continue moving forward. Since the walker has no wheels, it is more difficult and slower to move forward, but it allows the user to lean their weight into the unit. This means the user can rely on the walker for stability.
What's the Difference Between a Rollator and a Walker?
The obvious difference between a rollator and walker is the wheels. The rollator's wheels make movement easier but the lack of wheels on a walker makes the unit more stable for the user. Rollators can be used indoors and outdoors, whereas walkers are intended for strictly indoor use. Additionally, rollators offer the user a seat and storage!
Wheelchairs
If you're looking for a mobility solution when you cannot walk or struggle to walk, a wheelchair may be the right device for you. A wheelchair is a chair that has four wheels. The user can sit in the chair and move around wherever they choose. The front wheels are small and nimble and the back wheels are large. These large wheels sit on either side of the seat and allows the user to grab onto them to propel themselves forward. Wheelchairs also have foot rests and handles behind the seat so that another individual can push the user.
Manual Wheelchair
The most common type of wheelchair is a manual wheelchair. These wheelchairs are powered by the users upper body strength. The user grips the large rear wheels and pushes themselves forward. Manual wheelchairs are simple to turn and to navigate, making them a great mobility solution!
Transport Chairs
A transport chair is a mobility solution chair that is similar to a manual wheelchair, but has many differences. Transport chairs are significantly lighter than manual wheelchairs and they are portable. These chairs are designed with smaller back wheels which means they require another individual push the user. These chairs collapse easily to fit into a car and are designed for short term use such as a trip to the doctors.
ADAPT Home Health Care
At ADAPT Home Health Care, we put our customers first. We offer a variety of services for our customers including:
Medical compression therapy
Government funding for mobility aids
Complimentary in-home assessments
Bracing and daily living aids
Ostomy supplies
Short-term and long-term rentals on a wide range of our products including wheelchairs, walkers, bathroom aids, crutches, and more
Blood pressure checks
If you'd like a full list of our products and services, visit our website! Our three locations across the Greater Toronto Area are also ADP approved for ambulation aids, such as walkers and rollators as well as lymphedema wraps and stockings!
Regardless of your situation, if you're struggling with your mobility, the team at ADAPT Home Health Care can help. Our team will work with you to find you the perfect mobility solution that fits your life and helps give you back the independence that you've lost.
Latest posts by ADAPT Home Health Care
(see all)