Lymphedema is abnormal, chronic swelling that can develop as a side effect of breast cancer surgery and/or radiation therapy. It might not sound serious but it's extremely important that you understand what it is and why it needs to be treated early.
Here are 7 things you need to know about Breast Cancer and Lymphedema.
1. What is the Lymphatic System?
The lymphatic system intersects two of our most vital functions: our circulation system and our immune system.

It is comprised of a network of micro-vessels that transports fluid (called lymph) back to the heart.

As lymph passes through the lymph nodes it is analyzed for any illness-causing invaders (infection, toxins, etc) that would require an immune response.

2. What is Lymphedema?
When part of the lymphatic system is damaged, removed, or obstructed, lymph is unable to be pumped back to the heart and starts to build up resulting in swelling.

The word edema means swelling. There are different types of edema. However, when swelling is caused by a build-up of lymph it is called lymphedema.

Lymphedema cannot be cured (yet). It is a lifelong condition that will get worse over time if it is left untreated or not managed well.
3. What's so Bad about Lymphedema?
The compromised lymphatic system cannot stop the fluid (lymph) from accumulating, nor can it drain the lymph on its own.

If left untreated, the swelling will keep increasing until the skin can't stretch fast enough to accommodate the lymph. That is when lymph starts to leak onto the skin (called Lymphorrhea).

Lymph is a protein-rich fluid that bacteria love to consume, leaving the breaks in your skin susceptible to infections like Cellulitis, Lymphangitis, and Erysipelas.

Not only is there the risk of infections, but when lymphedema is left untreated it can result in fibrosis (Fibrosis is the thickening, hardening, or scarring of tissues in the body), and even elephantiasis.

4. What is the Link Between Lymphedema and Breast Cancer?
Breast cancer and its associated treatments are some of the most common causes of upper extremity lymphedema. Around 17% of breast cancer survivors develop lymphedema*.

It usually occurs in the arm and hand, but sometimes it affects the breast, underarm, chest, trunk, and/or back*.

It's important to note that Lymphedema can develop months or even years after breast cancer treatment.
5. How Do You Treat Lymphedema?
There are a few ways in which lymphedema can be treated and managed. The gold standard of care is called Complete Decongestive Therapy (CDT).

CDT uses various techniques to help the lymphatic system pump the stagnant lymph out of the area where it's pooling.

Swelling then reduces and multi-layer bandaging is applied to preserve the effects and prevent further swelling.

CDT is effective for nearly all forms of swelling and is comprised of:
Manual Lymphatic Drainage (MLD)
Compression Therapy & Multi-Layer Bandaging
Skin Care to Prevent Infections
Exercises to Stimulate Flow of Lymph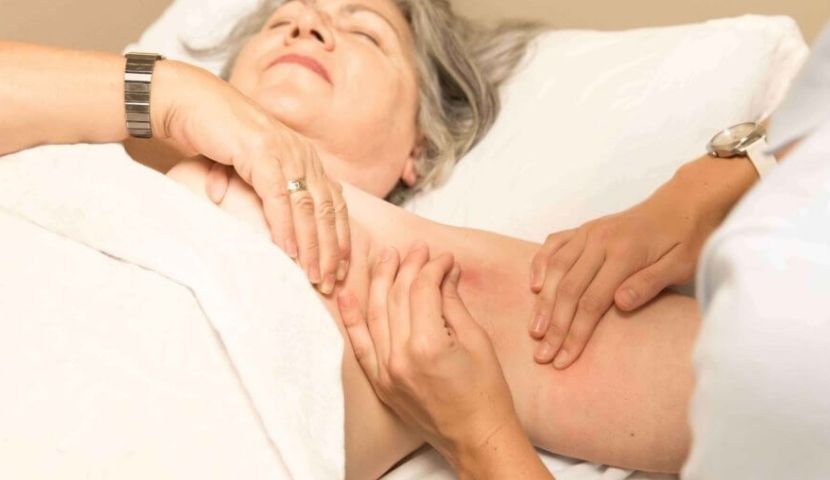 Once CDT is completed, most will need to wear compression garments for the rest of their lives.

There are other interventions such as medications, lymphatic microsurgery, pneumatic compression, and kinesiotherapy.
6. What are the Early Symptoms of Lymphedema?
Lymphedema usually develops gradually, and you may feel an unusual sensation — such as tingling or numbness — that comes and goes before any visible swelling occurs.

Common symptoms you may feel in the limb include:
Heaviness / Tightness
Numbness / Tingling
Achiness / Fullness
Puffiness / Swelling
Decreased Flexibility
No Pain (Pain is not necessarily an indicator)
7. How Can You Be Proactive?
The earlier you detect lymphedema the better. In the earlier stages, it can be reduced and controlled so that you can live a normal life. If caught early enough, it can even be reversed!

Unfortunately most take action too late for it to be reversed – whether from a lack of education, denial, incorrect dismissal by a doctor, or thinking it's "just fat arms".

– If you're a breast cancer survivor, or about to start treatment, please educate yourself about lymphedema.

– Take preventative measures if you aren't experiencing symptoms.

– If you suspect that you have lymphedema take action now. Advocate for yourself with your family doctor.

– If you live in the Greater Toronto Area, you can book an online consultation with our Certified Lymphedema Specialist. Maria will be able to answer your questions, such as:
What is the process for diagnosis and treatment in Ontario?
What preventative measures can I take?
How do I know this is lymphedema and not another kind of swelling?
How do I apply for government (ADP) funding and what does it cover?
What type of compression sleeves do I need?
Speak to a Lymphedema Specialist
Always a great experience when I am dealing with the staff at ADAPT Home Health Care. The representative is fantastic, had to get custom compression stockings & a walker and was treated with professionalism and dignity.

University of Toronto