When you or a loved one feel a bit shaky when walking, you might benefit from a mobility aid like a rollator. There are a number of mobility aids to consider, in this article we explore rollators.
Rollators come in different sizes and features which means, with a little knowledge, you can find the right one for you.
What is a Rollator?
Rollators are a type of mobility equipment that helps promote independence and reduce the risk of falls. In plain terms, they are spruced-up walkers on wheels and they come in three or four-wheel versions.
They also have seats that give you a place to sit and rest if you need to take a breather. Most rollators, especially the four-wheel ones, also have a compartment (often below the seat) to hold your belongings.
In this video, ADAPT Home Health Care's manager – Peter – explains the types of rollators.
Who Benefits From a Rollator?
There are different rollators for different life situations. If you can balance yourself but need a place to sit frequently or you need help carrying necessities like groceries, an oxygen tank, etc, rollators can be a helpful addition to your lifestyle.
For injured or frail individuals who have particular issues with mobility, a rollator enables them to live a more independent life.
Here are 7 practical reasons to add a rollator to your list of mobility must-haves if mobility is a challenge:
1. Rollators Prevent Falls
Falls lead to many other serious complications that are avoidable when using a rollator. If you feel weaker in your legs or are on certain medications, the rollator will help provide you with balance and support when walking. If you feel tired, put the brakes on and sit down until you have regained your strength.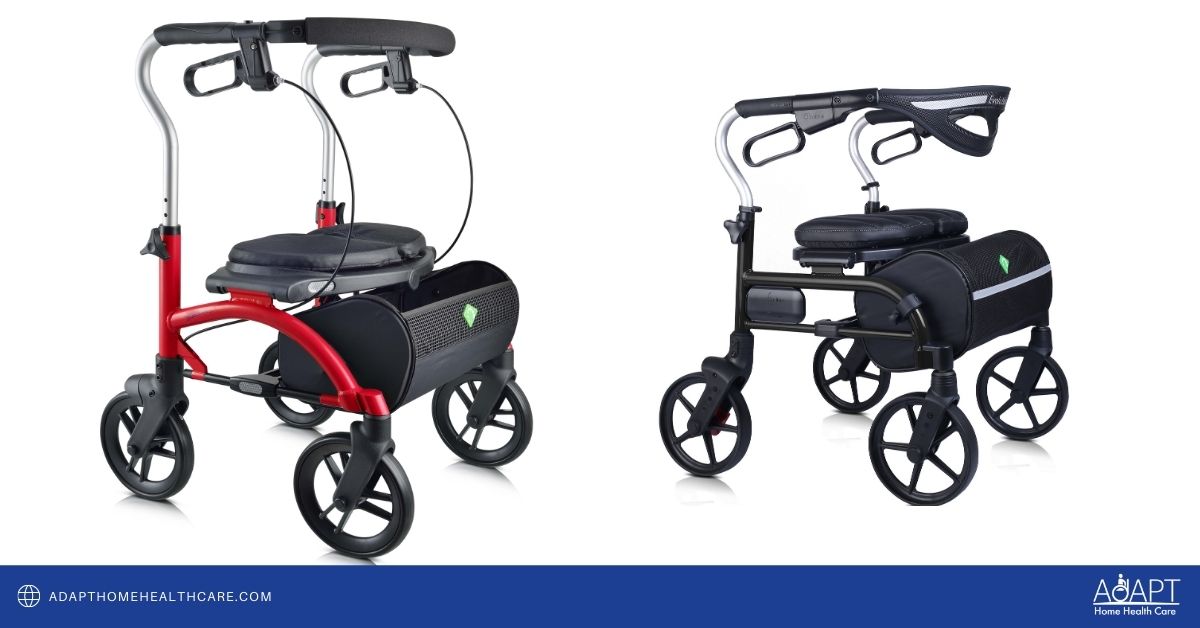 2. Promote Independence & Enhance Self-esteem
Rollators provide support and relief while walking and give you a seat to sit and rest should you need to. From grocery shopping to work to socializing with friends and family, there are many everyday tasks that continue to remain enjoyable and are much easier to accomplish independently without needing the help of anyone else.
3. Provide Maximum Comfort
Most rollators are designed and engineered to provide maximum safety and comfort! The handles are ergonomically designed to protect your hands and wrists.
They also come with a padded seat and backrest belt to provide lumbar support when seated. Rollators are equipped with metal or soft material baskets allowing you to store your belongings when taking a stroll!
4. Easy to Transport
Rollators are foldable, compact and easy to transport wherever you go – even on a holiday or a cruise ship!
5. Funding & Reimbursement Programs Available
There are numerous funding and reimbursement programs available! Speak to one of Medical Equipment Specialists as they will help determine whether or not you are eligible for reimbursement based on your specific situation.
Did you know that some of these programs are based on physical need and not financial need? We will also help you assess whether you are eligible to claim any out-of-pocket expenses through your private insurance plan.
Speak to a Rollator Specialist
6. It Can Be Used Indoors and Outdoors
You might be debating whether or not you can use your walker outside or not. Walkers (the mobility aid with a steel frame, no seat, no brakes, and often no wheels) are better suited for indoor and short-term use while rollators have significant benefit when using it inside AND outside!
The wheels on a rollator are typically more durable and therefore longer lasting. Also, most rollators are equipped with 4 wheels which allows you to move it around a lot more easily and safely.
7. You Have Choices!
You have lots of choices when it comes to picking your ideal rollator. They come in many different styles, sizes and colours. It is important to get measured and have the right rollator selected for you based on your size, weight and needs. There are a few different add-on or advanced options to make your rollator more functional for you.
Staying mobile is an important part of everyday life to help promote health, safety, and independence! Our showroom is equipped with different styles of rollators to suit your needs. Come and try one out or speak to us today so we can help determine whether a rollator would benefit you!